Why Choose Triple P for Software Implementation?
Implementing a new business management software solution can stem from many reasons including to improve business performance, better integrate systems across multiple locations, replace an old ERP or legacy system, ensure reporting and regulatory compliance, and many more

The partner you choose to implement new technology can be just as important (if not more) than the technology itself, and we want to ensure you receive the maximum return on your investment
Maximize Your Investment
Thoroughly understanding expectations is the first step to a successful relationship with your technology solutions provider. Prior to beginning any project, a Triple P Team Lead will meet with you and walk through each assignment. We will have a project management plan in place so both parties can feel comfortable and have a clear understanding of the scope of work to be performed
Our Implementation Approach
Our Microsoft Dynamics implementation team provides expert guidance in defining a project schedule that fits your business needs

Implementation includes:
- Set-up configuration
- Installing the software on the server and clients
- Importing historical data
- Loading additional data
- Customization
- Report definition and creation
- Testing & debugging
- Training

After the initial implementation, our project team will keep in close contact with you to ensure the ongoing success of your system. We conduct periodic evaluations to get your feedback so we can resolve any issues that may arise and continue to provide the highest level of service and support. Due to our extensive experience, we are able to offer NO RISK fixed priced implementations so you know your total investment before you get started. Initial consultation is free, and there is no obligation. Contact us today so we can get your next project on our schedule
Training
Your software system can't do much for your business if your staff doesn't know how to efficiently use it
Why Choose Triple P for Training?
Your software system can't do much for your business if your staff doesn't know how to efficiently use it. Our certified training team will design a training program tailored to your specific business needs and will teach users to perform procedures specific to their positions. You can choose to receive training prior to and/or after your system goes live. We will deliver a detailed training plan so you know what topics will be covered, who your trainers will be, and how many days it will take
We provide the following flexible training options:

- Individual hands-on training
- Classroom training at our office
- On-site training at the client's location
- Train-the-trainer

Triple P also hosts Microsoft Dynamics GP (formerly Great Plains) and Microsoft Dynamics NAV (formerly Navision) user group meetings, as well as ongoing training classes throughout the year at our office. Please contact us for more information on training options and user group meetings and check out our blog for the most up-to-date information and news on your Dynamics solution
Why Choose Triple P for Customization?
For organizations that may not have the time or in-house resources to create custom solutions, Triple P offers professional software customization services to meet specific needs. We understand products such as Microsoft Dynamics 365 Business Central, Microsoft Dynamics 365 Finance & Operations and Microsoft Dynamics CRM inside and out, which enables us to implement customized solutions quickly using stable, well-written code

For an organization to continue to be a market or industry leader, they must invest in and protect their processes and technology. Being a market leader means creating new value and methods that are not offered by competitors and developing new approaches to solving business problems. One of the biggest challenges to organizations who lead in this manner is finding software and technology solutions that are able to keep up with and track their unique business processes. These organizations, by their very nature, require customized solutions
Upgrade
There's No Better Time for a Dynamics Upgrade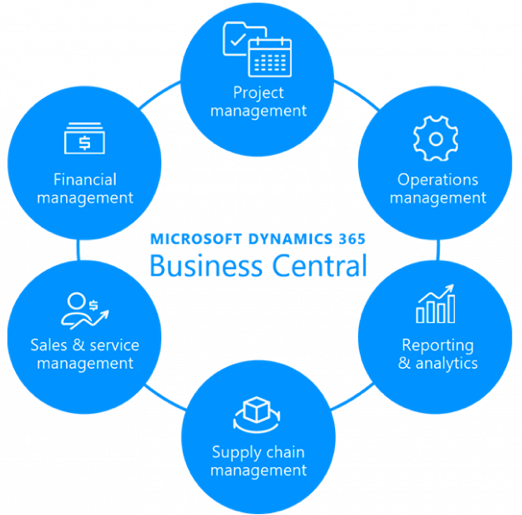 WHY TRIPLE P FOR YOUR DYNAMICS NAV UPGRADE?
Progressive Updates
Rest assured you will always have the most up-to-date features and functionality due to progressive and regular platform updates and application updates, eliminating the need for major upgrades or a reimplementation every few years
Reduced IT Maintenance
Deploying Dynamics in the cloud allows you to eliminate on-premise servers and systems that require maintenance. In addition, Microsoft is responsible for regularly monitoring and updating the underlying platform and application itself. This reduces the need for your IT staff to maintain your system
Functional Enhancements
Moving to Dynamics 365 provides additional features and capabilities that your organization can take advantage of, some of which include: Use of Power Apps to create mobile apps
Use of Flow to easily create workflows
Ability to leverage advanced analytics via Cortana Intelligence Suite
Real-Time Business Intelligence
Built-in analytics, artificial intelligence and machine learning tools make it easier to connect data, build beautiful dashboards, and uncover trends. This new intelligence makes it easier for all levels of the organization to make more informed decisions around business processes, financial performance, sales, marketing and more
Why Choose Triple P for Support?
We know that you have made a great investment in Microsoft Dynamics, and Triple P is committed to helping you get the most out of your Dynamics solution. By providing a variety of service plan offerings, Triple P will enable you to use your software to its full potential. We hope to be your primary source for on-going Dynamics support. All support clients have specific needs regarding billing and the method in which support calls should be handled. Therefore, Triple P has created several different service plans and service protocols for our clients



Customer Source
Microsoft Dynamics CustomerSource is a password-protected site for customers using Microsoft Dynamics products, provided as a benefit of a service plan. Use it to search the Knowledge Base, download updates, view online training, and find other information resources virtually 24 hours a day. (Sign-in required)